The deadline for entering your items online will be SUNDAY, Sept. 10 AT MIDNIGHT - no exceptions.
The Basics
All items MUST be entered online and tagged with a barcoded tag.
You can begin item entry as soon as you register for the Fall/Winter sale.
Click here for: New Consignors
Once you are registered, you will be assigned a consignor number and asked to enter a password.  Once entered, this will take you to your consignor homepage.  From here, you can enter items, print tags, etc.  When logging in from this point on, you will enter as a returning consignor with the same consignor number and password. BE SURE TO READ TAGGING INSTRUCTIONS AND ACCEPTABLE ITEMS THOROUGHLY BEFORE BEGINNING.  This will give you LOTS of helpful information.
Click here for: Returning Consignors
Enter your consignor number and password to register for this sale and get to your consignor homepage. BE SURE TO READ TAGGING INSTRUCTIONS AND ACCEPTABLE ITEMS THOUROUGHLY BEFORE BEGINNING.  This will give you lots of helpful information and make you aware of any changes that have been made.
TO ENTER ITEMS: From your consignor homepage,  click on the Activities Menu at the top of the page , then "Work with Consigned Inventory" then "Work with Consigned Items."  This will bring up a template of our tag, which you will fill out for each item.  Please use a clear description of each item (ex. Gap blue long sleeve dinosaur shirt instead of just tshirt).  Many times we find loose tags but cannot match it up with items due to lack of description on the tags thus we cannot sell the item.  This will benefit both you and the customers. Your items are automatically saved after you submit each one, so you don't need to worry about losing your inventory.  You can take a break anytime and go back to it when you are ready. Just click "I'm finished for now."  To donate any unsold items at the end of the sale, click the donate box on each individual tag you wish to donate. ***PLEASE NOTE: If you choose to donate any item, it will AUTOMATICALLY also be marked to discount on Saturday only.****  If you would like to pick up your items at the end of the sale, simply leave the box blank.  To discount unsold items 1/2 price on Saturday ONLY for our discount day, click the discount box on each individual tag you wish to discount.  If you would like for your items to remain full price for the entire sale, simply leave the box blank.  This cannot be changed at the event as the discount/donate is built into the barcode on your tag and is the choice of each consignor.
Pricing Guidelines
There is a $2 minimum per item. You may combine no more than 3 items per hanger to bring the value up to $2 (the only exception is infant onesies).
A typical guideline for pricing is 20-50% of the original retail price. Please carefully consider the condition of your item when pricing by thinking of how much YOU would be willing to pay for the item.
Printing Your Tags
You get to print your tags out yourself!
DO NOT PRINT TAGS ON REGULAR COPY PAPER!!!  
PLEASE PRINT ON WHITE or PASTEL CARDSTOCK. Please DO NOT use green or blue cardstock as they do not scan at checkout.   This can be purchased at Wal-Mart or Staples for about $5-$7 for 150 sheets.
Our system prints 6 tags per 8.5 x 11 sheet of cardstock. It is important to use cardstock instead of regular paper because paper tears easily and gets separated from your item.
TO PRINT YOUR TAGS: Sign into your consignor homepage, click on the Activities Menu at the top of the page, then "work with consigned inventory", then "print all tags" or if you only need to print select tags choose "print select tags".
Prepping Your Items
Be sure to check the acceptable items tab before each sale.
CLOTHING IS LIMITED TO 200 ITEMS!  All other items (shoes, toys, equipment, etc.) are still unlimited.  No more than 3 items can be bundled and priced together.
Please remember that ALL clothing must be hung.
The hanger should face left and should like a "2″ when you look at it.  Plastic hangers are preferred but not required as wire hangers get very tangled on the racks making it hard for customers to see your items.
Please hang pants/shorts at the top of the hanger (where it looks like an upside down v) so they don't slide on the hanger and are easier for customers to see.  Pin with a safety pin through the wasteband AND around the hanger on each side.  Hang pants/shorts as if wearing them.  DO NOT fold over the hanger or hang pleated sideways.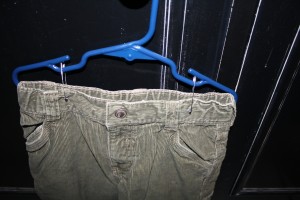 You will not get your hangers back – they leave with the buyer.
If you have a multiple piece set, please attach the hangers together at the top with rubberbands, ribbon or zipties and safety pin through ALL items on the right or left side of the outfit to keep items from getting separated. 3 item limit per hanger.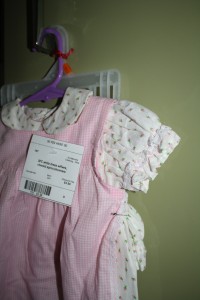 Shoes may be tied together using string, zipties (can be purchased at wal-mart in hardware section), safety pins or ribbon.  They can be placed in ziplock bags but please be sure to securely tape the bag closed with clear packing tape.  Attach the tag to the bag securely with clear packing tape.  Do NOT leave tag loose in the bag as they will get lost easily.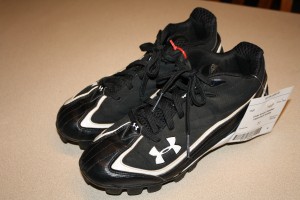 Multiple piece toys, games, decor, etc. can be placed in a large ziploc bag and taped securely closed with clear packing tape to help prevent it from being opened and separated during the event but still easily seen.  Place tag on the bag with clear packing tape.  Large ziploc bags and ziploc BIG BAGS can be purchased at Wal-mart.  Usually in the section with all size ziploc bags or the aisle with storage items.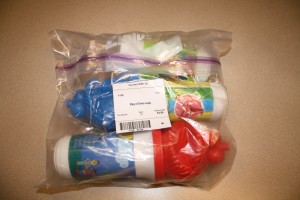 Please cover safety pins where you attached the tags and/or end of tagging gun tabs with duct tape or clear packing tape.  This is not mandatory but will help protect your items from tag switching at the event.
Before bringing clothing to the event for your drop off shift, please have in order by SIZE  and SEX (ex. all 3T boys clothing together, all 12 mon. girls clothing together, etc.).  If there is a catagory selection for a specific size when creating tags, then we will have a specific group for it on the rack(ex. newborn, 0-3 months, 3 months and 3-6 months, etc.  are all SPECIFIC sizes and will each have a section on the racks).  This will help you to more efficiently and quickly place your items on the sale floor.
Tagging Your Clothing:
We suggest you use a tagging gun to tag your items. Using these guns reduces the risk of "tag switching" and does not leave holes in the shoulder of shirts, dresses, etc. If you are using safety pins to tag your items, please place the tags on the top right corner of the item (as you look at it).  DO NOT USE STRAIGHT PINS!!!   If you are using a tagging gun, please put the tag through the original tag of the item or under the right sleeve in the seam(as you look at it) if there is no tag.  If using a tagging gun, always tag in a seam or tag.  DO NOT TAG DIRECTLY THROUGH THE CLOTHING AS THIS LEAVES LARGE HOLES!  For your convenience, we offer tagging guns for only $24!  This includes one gun and 1000 plastic barbs.  You can email ashley@monkeybusinessok.com or text Ashley @ 580-320-3605.
Large Items:
You can use clear packing tape (or something similar) to tag toys or other items that do not have a place to pin a tag. If you have any questions, I will be happy to help. Just give me a call or send me an email.
Blankets/towels/burp rags/sheets/linens in general:
These items need to be folded and tied together with ribbon, string or tape OR placed inside a clear bag such as a ziploc or ziploc BIG BAG.